Ireland tours guide app
Explore the Emerald Island with your smartphone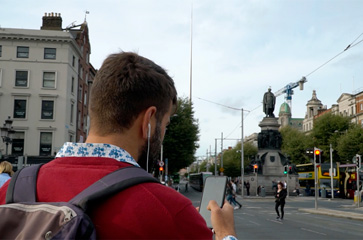 Download Ireland Best Local Guide
With Ireland Best Local Guide you can discover the best destinations on the Emerald Isle with our tour guide app for smartphones.
You can visit the capital, Dublin, as well as the famous Cliffs of Moher, the Wicklow Mountains with their glacial lakes and Celtic crosses, the coast of Howth and Malahide Castle, the medieval town of Kilkenny and much more.
We have walking and driving options for you to choose the way you like to travel.
Here is a summary of the main features and characteristics of Ireland, such as its currency, capital city, driving directions, population, language spoken, etc.
View Ireland Tours on map
Get a bird's eye view of Ireland from the map so you can get to know the places you are going to visit with our tour app.
Touring Holidays in Ireland
These are some of the most beautiful sights in Ireland that you can discover for yourself with the Ireland Best Local guide app.